2 Days in Barcelona
Wondering if a quick stop in Barcelona is worth it? Keep reading to learn how much you can see in just 2 days in Barcelona.
In 2018, we were visiting Terrance's family in southern France when we decided to take the train to Barcelona for a quick 2-day-2-night visit.
I was impressed by how much we were able to see in such a short time, and I completely fell in love with Barcelona!
Learn more about Terrance & me  
Best time to visit
If you are planning your trip ahead of time (unlike us), April through July is the best time to visit weatherwise. It can be hot and humid in the late summer/early fall, and the winter months are colder, overcast, and you have the possibility of rain.
We were there in mid-September, and it was sweltering by mid-afternoon. We found a great workaround, though.
We went sightseeing in the morning and returned to our hotel after lunch for a shower and siesta. Once refreshed, we would head back out for more touring in the late afternoon and evening.
There is so much to see in Barcelona that it can be hard to know where to start. We were only there for three days, but we managed to fit in a lot. It's effortless to get around the city using the metro.
The following is not an exhaustive list of things to see in Barcelona, but I think we hit the highlights in our limited time there.  
1. Plaça de Catalunya
  
Plaça de Catalunya is in the center of Barcelona and the perfect place to start your visit.
The square itself is beautiful. There are two large fountains, sculptures, flower gardens, and large trees for shade.
And pigeons. Lots of pigeons.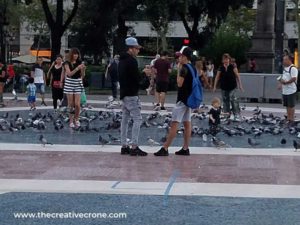 It is the central hub for the metro, city buses, tour buses, and taxis, so it is easy to get anywhere from the plaza. It is the starting point for Las Ramblas, Passeig de Gràcia, and several other main streets if you are planning a walking tour.
Brand-name stores offering limitless shopping opportunities surround the square. It is a bustling area day or evening and a great meeting place if you are with a group. 

2. Sagrada Familia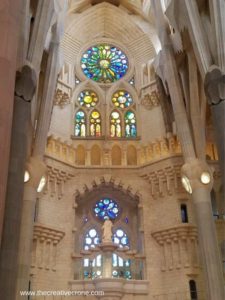 This beautiful church is one of the most popular attractions in Spain.
Architect Antoni Gaudi designed the Catholic basilica. Gaudi is famously known for championing the Catalan modernism architectural style.
The church has been under construction for the last 100 years and will continue for at least another twenty years. But even while it is incomplete, the grandeur of its design attracts over 3 million visitors every year. It is a spectacular church that will take your breath away.
Because it is a top-rated attraction, it is a good idea to book your tickets online. They can be purchased on-site, but you will wait in line for a very long time and have little choice over the time you get to go in. (Ask me how I know this.)
Every day at noon, you can hear the Angelus sung in the Basilica. The Angelus is a prayer to the Virgin Mary prayed by the Benedictine Sisters of the Monastery of Montserrat.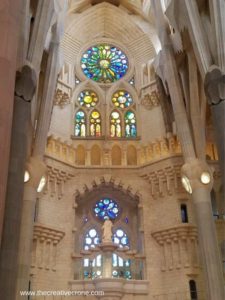 If you happen to visit during the 50 days of Eastertide, you can hear the Regina Caeli sung by the Choir of the Monks of the Benedictine Monastery of Santo Domingo de Silos. Unfortunately, we were unaware of these special events, so we didn't get to hear them.
Next time I will make it a "must-do" for our visit.  
3. Casa Batllo
There is something about Barcelona and exquisite architectural designs.
Casa Batllo is another Antoni design. Constructed in the 19th century for the Batllo family, this former townhouse is marvelous. It is nicknamed House of the Dragon because of its unusual appearance rich in curves, natural forms, and the tiled façade, which is reptile-like.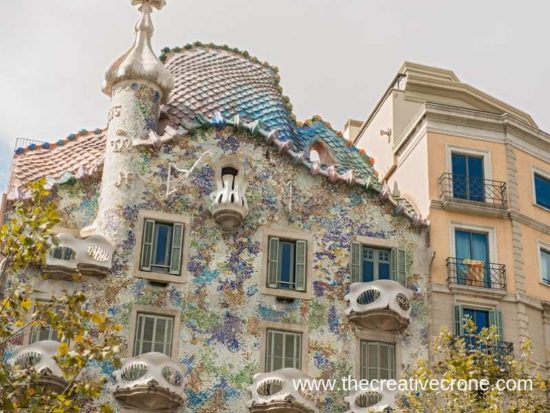 You will find Casa Batllo on the Passeig de Gràcia, one of Barcelona's most famous streets because of the shopping and architecture.
Like the basilica, I recommend that you order your tickets online. We didn't do this and were unable to get tickets because they were sold out.
While we didn't get to tour the inside, the exterior is impressive!
Another place to see Gaudi architecture is Park Güell, which we didn't see, but you may want to check it out.  
4. Las Ramblas
Las Ramblas is the most iconic street located in Barcelona.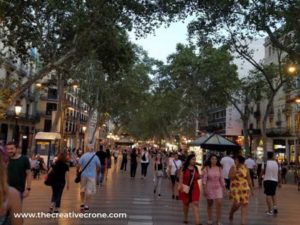 It is a broad boulevard running from the Plaça Catalunya to the seafront. Originally, Las Ramblas marked the edge of the town center during the middle ages.
Today, it is a famous street full of cafes, shops, and the La Boqueria food market.
There is always a large crowd on the boulevard because of the culture and the food scene. You will find small vendor stalls selling everything from postcards and touristy items to artists with their original work.
And there are restaurants, many, many open-air restaurants.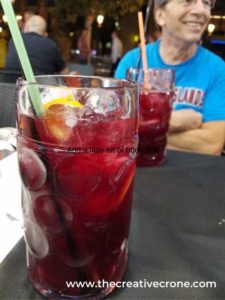 Eating a delicious dinner and sipping sangria while people watching on a balmy evening is lovely.
After dinner, take a walk down to the waterfront and enjoy the cool breeze while enjoying some dessert.  
5. Port Vell and Rambla de Mar
If you follow Las Ramblas to the end, you will arrive at Port Vell and Rambla de Mar.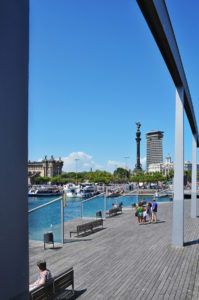 The Rambla is a long pier with benches to sit and enjoy the scenery and cool ocean breeze.
At the end of the pier is the famous Maremagnum shopping center that houses stores, restaurants, and a large movie theater. We loved coming down here after dinner to enjoy coffee and dessert while sitting on the pier.
It was a relaxing way to end the day.    
6. Telefèric de Montjuïc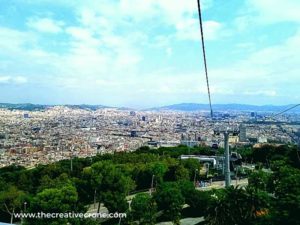 There are two tramways or cable cars in Barcelona, the Port Cable Car (Transbordador Aeri del Port), and the Montjuïc Cable Car.
The Port Cable car starts, as you might imagine, at the port and goes up Montjuïc. It is a large car that holds 15-20 people.
The Montjuïc cable car starts where the Port cable car ends and takes you to the top of the mountain.
On the top, you will find amazing views of the city and port, a castle, botanical gardens, an Olympic-sized swimming pool, and walking paths.
You do not have to take the Port cable car to reach the Montjuïc cable car. You can take the metro to the Paral.lel stop, then jump on the funicular (a mountain train) to the Montjuïc cable car ticket office.
These small cable cars hold four people and are very comfortable. Have your camera ready to photograph the aerial views of Barcelona on your way up and down the mountain!  
7. Camp Nou Stadium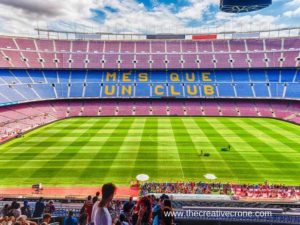 Visiting a soccer stadium may not be high on your Barcelona to-do list. It would not have been on mine either, had I been traveling solo.
But I happen to live with a soccer fanatic (he's French, after all) and FC Barcelona is his number one team. Skipping a visit to Camp Nou Stadium was out of the question!
Going there, however, turned out to be a fun experience even if you aren't a soccer fanatic!
Camp Nou is the largest stadium in Europe. The stadium also houses an extensive FC Barcelona Museum, which displays the trophies, original football club shirts, and other memorabilia from this great team.
With a Camp Nou Experience ticket, you can tour the whole stadium from the locker rooms to the press boxes. You can sit in the player's seats on the field and walk through the tunnel they use to come onto the pitch for games.
Of course, there is an expansive gift shop at the end so you can buy everything FC Barcelona has to offer.  
Where to Stay
I highly recommend staying close to the train station (Sants Estació).
There are plenty of hotels and restaurants near Sants Estació, making it the perfect place to stay for a quick visit. From Sants Estació you can access the metro station, taxis and Barcelona Bus Turistic, a sight-seeing service.
Staying in this area makes getting around Barcelona fast and convenient.  
What to Eat
I am not a "foodie," but I enjoy eating good food, and there is plenty of fantastic food in Barcelona!
Number one in my book is paella, even though paella is originally from Valencia, it is served everywhere in Barcelona.
We had all kinds, chicken, seafood, vegetable, and they were all wonderful. Add a glass of sangria (or two), and you have a perfect meal.
Also, be sure to try some tapas (small plate treats) and Bombas, which are round potato croquettes served with either a white sauce or spicy red sauce.
 

Shopping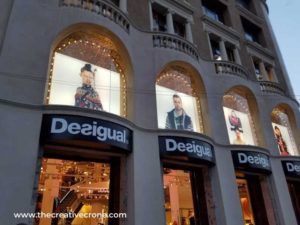 One of my favorite purse and clothing brands is Desigual. When I learned that their flagship store is in Barcelona, you know I had to go there!
As it turns out, they have many stores in Barcelona, but the flagship (and largest) store is in Plaça de Catalunya. They have beautiful purses, as well as gorgeous clothing for men, women, and children.
Like any large city, Barcelona offers plenty for shopaholics. You will find all the biggest names in fashion from Versace to Cartier.
Also, local vendors have their street stands with original artwork and jewelry, which I find much more appealing.  
Time to Leave
I hope I gave you a good taste of Barcelona. We only had two days there, so I know we missed a lot, but that provides us with a reason to go back (as if we needed a reason!).
If you've been to Barcelona, let me know what I need to see the next time we visit. Please write a comment below and share your stories.